Central Coast Wedding Ryan and Elisa | Olive Tree Officiating
The Central Coast is replete with fantastic venues for weddings and elopements. Santa Margarita Ranch is one of those special places; though not on the water, it's close enough to the coast to be considered "central" to our wedding community.
"Something historic, something modern:" that's gotta be the tag line for Ryan and Elisa's country-style wedding.
Ryan and Elisa know how to pick a venue! Complete with rolling hills of golden grass, 100+ year old black oak trees, vintage farm house, and barn the Historic Santa Margarita Ranch couldn't be more perfect for a country-style wedding. Modern amenities include, a grass oasis for ceremonies and cocktail hour, "bunk house" for changing and last minute touch ups, plenty of electricity, a semi-finished reception area and running water (which isn't always the case at country venues in the Central Coast).
Ryan and Elisa's wedding was memorable for many reasons. The number one reason it was so great was because of their families. What a bunch of wonderful people! Down to earth, laid back and supporting in every way.
The Rager's wedding was a reminder of all the best reasons people get married: uniting families, the joy of life, the pleasure of good friends, and the love of two people who have found each other in a world of strangers. They also included vows they wrote themselves and a sand ceremony.
Their wedding was also a reminder of quick thinking and ingenuity. Elisa and Ryan awoke to hurricane Matthew. Most people on the west coast haven't probably thought much about it. However, when your bouquet is being shipped from Florida, hurricanes aren't typically helpful. That's right: no flowers! Those DIY YouTube videos went a long way to make for some beautiful boutonnieres and a bridal bouquets.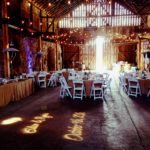 All the best to Ryan and Elisa and their families in this new phase of life. It was our pleasure to be present.
This event was made possible by the following vendors:
Kramer Events – planning, coordinating, photography, and sound